Hi all,
since some might think this is evil advertising for yet another commercial NAS box... it is not. It's about Helios4, an ARM based 4 bay NAS project currently on Kickstarter: http://www.cnx-software.com/20…id-and-more-crowdfunding/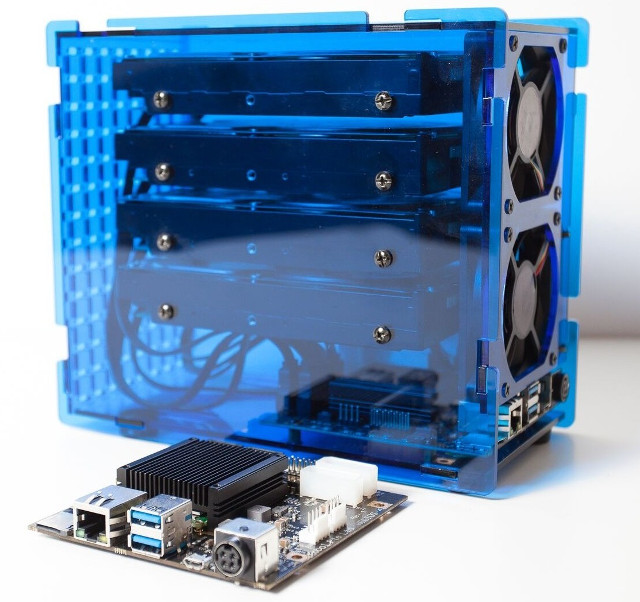 Development started last year and the project lead asked in Armbian forum for feedback (which they got and incorporated already). These guys are also fully committed to Open Source goals/community and will even donate to certain OSS projects (OMV amongst it) if the project gets funded.
But unfortunately Kickstarter didn't allow them to list prices in US dollars and since they're Singapore based and have to show main prices in Singapore dollars majority of people thinks Helios4 would be overpriced. It's not and you have to check the numbers carefully (for example first bundle is listed as '195 S$' with the US dollar price shown one line below in brackets: USD$139. Same applies to shipping costs, there the USD$ value is also just 2/3 of the S$ rate)
It's only 8 days left but Helios4 came up with a really cool new bundle. This is the first ARM based low cost NAS that allows the use of ECC memory:
https://www.kickstarter.com/pr…open-source/posts/1907929
ECC memory is important if you care about data integrity since DRAM errors happen every now and then (we have a lot of customer's servers in a monitoring and even servers that survived 72 hours memtester 'burn in' show recoverable 1 bit errors from time to time that get corrected since real servers use at least primitive ECC memory able to recover from single bit errors and reporting also unrecoverable 2 bit errors even if data gets corrupted in such cases).
Please keep in mind: if your box does not use at least primitive ECC DRAM you won't even take notice of such bit flips if they happen and experience what's called 'silent data corruption' or 'bit rot' (only the severe bit flips that lead to crashes, freezes or file system corruption maybe get some attention). Some further information wrt DRAM bit flips: http://linux-sunxi.org/Sunxi_devices_as_NAS#cite_note-1
How does Helios4 relate to OMV? I added few weeks ago an universal OMV installation routine to Armbian's build system. Armbian currently already supports two ARM devices that rely on exactly the same Marvell ARMADA 385 SoC (in fact Helios4 will use exactly those MicroSOM modules from Solid-Run) and I even collected performance numbers already with my Clearfog Pro: https://forum.armbian.com/inde…findComment&comment=29574 (in other words: By the time Helios4 gets shipped there will be two perfectly optimized OMV builds for this NAS box, one using Marvell's 4.4LTS kernel and the other latest and greatest mainline kernel with even better performance!)
So anyone searching for a performant NAS box fully committed to Open Source with up to 4 real and really fast SATA 3.0 ports (there's 2 x USB3 too!) able to operate in a very reliable mode (unlike some USB3 'NAS solutions' pushed out by dev board vendors recently) and also with very low idle consumption if disks are allowed to spin down should have a look. Beware: It's only 8 days left so better check the Kickstarter now and help the project getting funded!