Hello,
I recently found out that my RAID 5 as some issue as only 2 of the 3 disks are apparently being used.
All 3 are apparently recognized but i can't "repair" the RAID by addind the missing disk on the grape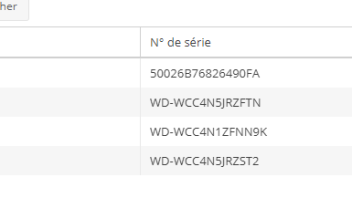 I don't exactly know when this happened. I actually saw it while trying to get some Nextcloud plugin working on Docker i think.
At the same time I tried to apply updates but i had some error message about the disk my Docker container were on which would block the updates. This was about two months ago, i didn't have time to work on it.
Yesterday i took the time and decided to work on a fresh OMV. I installed it and started configuration. Updates worked fine, but the problem with the RAID remain.
It's working if i mount it, I would prefer to repair it before going further in my configurations...
So here are what I get from the commands :
Any Idea of what is the problem and what i should do?
Thanks to anyone who can help me.