Hello guys!
I hope you are all doing well under the circumstances...

I need your insight....
I have watchtower running in docker and monitoring my containers for updates. A few minutes ago watchtower found an update for netdata, downloaded it and removed the old image.
time="2020-03-28T11:54:48+02:00" level=info msg="Found new netdata/netdata:latest image (sha256:651258a7de4d82ae0d88292ee3de13305e9b566d06bf05709b6208904462a105)"

This container was on a stopped state.
However I am not able to start it. The option is greyed out.
Additionally, when I click to modify it I get a message that "It is not possible to modify a data container".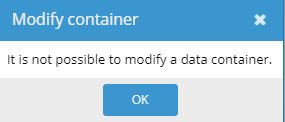 If I delete the container and use the newly downloaded image to run a new container, netdata will work but I need to enter the port and all env variables again. For netdata it is not that of an issue, but for other containers that need a lot of stuff, it definitely is..
What have I done wrong???
Thanks a lot!