Hello there.

I'm using OMV for few days and had been able to create my shares and access them, but I have an issue with access rights/permissions.

I basically have 2 shared folders :

"Public", wich have 777 access rights and is set as "guest allowed" in samba
"Shared" which have 770 access rights and is set as "not public" in samba.

The problem is that when a user add a file to one of the shared folders (users are using windows), the file ends up with 664 permissions, regardless of the share.

I also tried to use the "Permission" menu of OMV as well as ACL (even if I would prefer to only rely on the filesystem rights), but there is no options for r+w+x permissions. it is always only r+w

The only thing I managed to do is overwritte the access rights using the bottom part of ACL menu , but I have to do it each time a file is added.. Not exactly smooth..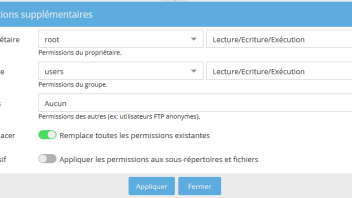 What am missing ? Is there a way to only rely on filesystem permissions (and the samba "guest" option), and automaticaly overwritte the new file's access rights ?

Thanks a lot !


EDIT : I don't mind having to set it in "hard way" through config files or stuff, as soon as it would be stable enough, and new shares could be added without modifying this verry setting. The nas is actually at my dad's and I managed to get him to understand linux access rights for him to manage it, but modifying conf files through ssh would be too much asking