I have a very strange problem and I can't quite figure out. I'm running OMV 5 on RPI 4 8GB. I have two 500GB & one 700GB USB drives attach to it. All of them are setup identical in terms of File Systems, Shared Folders, & SMB/CIFS Shares. I'm running a Windows 10 PC and accessing these network drives. I can create and save text files fine. Copy files to it fine. However, for some reason, I can only run EXE from the 700GB drive, not the other two. For example, if I put a copy of rufus-3.11.exe on these drives, the 700GB drive will show the file icon with the admin rights icon overlaying the file icon and I can right-click and run as Admin fine.
However, on the 500GB drives it does not show the admin overlay icon. It shows just the file icon

And if I right-click and try to run it as Admin I get this error, "Windows cannot access ...\rufus-3.11.exe. You do not have permission to access \\...\rufus-3.11.exe. Contact your network administrator to request access."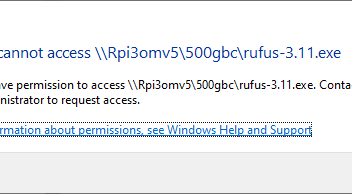 What could be causing this problem?