Hi,
I'm trying to install Emby in Docker.
First part is working fine, it's once i get into the setup of Emby i run into a small problem.
This is a layout of my Shares/Folder structure: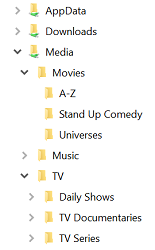 in my docker compose i used the following volumes:
- /srv/dev-disk-by-id-ata-CT250MX500SSD4_2017E29D61E6-part4/AppData/Emby:/config
- /srv/dev-disk-by-label-Data2/Media:/data/Media
I would like to have a Library that contains TV Documentaries and TV Series, and a separate Library with Daily Shows
Same goes for Movies, one Library with A-Z and Stand up Comedy, one with Universes
My problem is when i start creating Libraries in Emby i can't see the whole folder structure.
It sees data/Media and i can specify Movies or TV, but if i want to drill one level further then it says it can't find the folder
So if i enter
/data/Media/TV as a folder it works
if i enter
/data/Media/TV/TV Series
it says that the path can't be found.
I assume it has something to do with the spaces in the folder name, i tried '' and "" around the path but that doesn't seem to work either.
What am I doing wrong? I'm sure this is something simple.
Any help would be greatly appreciated