Hi,

I am testing borgbackup as backup method in openmediavault-backup plugin. I've been using fsarchiver but I wanted something more efficient.

Using a VM, I deleted the OMV system disk and created a new one, then booted with systemrescue 7.0. I am simulating the scenario where my real Flash dies and I need to swap it for a new one.
I think am doing wrong two things:
- grub restore command
- borg restore command
I mount the backup filesystem
I restore grub with the following command:
dd if=/mnt/backup/omvbackup/backup-omv-11-Nov-2020_23-32-27.grubparts of=/dev/sde bs=512 count=1
I can see partitions in GParted, but there's a warning for /dev/sde1 which is the main partition: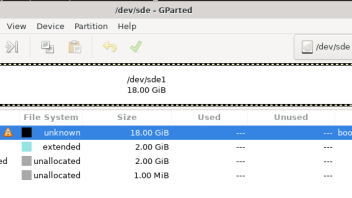 Then I attempt to restore the system with borg, am I running the right command? Taken from here
borg extract --stdout /mnt/backup/omvbackup/borgbackup::backup-omv-11-Nov-2020_23-32-27 | dd of=/dev/sde1 bs=1M
However nothing boots. Am I missing something?