Dear OMV community,
i started building my first OMV nas recently. After slow results with my Pi3 i started new with a brand new PI4 this week.
Unfortunately my write speed is much slower than anticipated. I get around 9 MB/s, but i hoped for a bit more to be practicable.
My setup is as follows.
RPI4. 4gb. original 3A psu, raspbian lite and OMV (this weeks versions).
Western digital elements 3tb, usb3 hdd which is directly connected to the Pi's usb 3.
Format: Ext4
Router: Linksys E3000 ( the led's confirm that both units, the Pi and the PC utilize the gigabit connection.
The network speed seems fine:

The usb hdd seems to utilize the standard driver, but my speed seems slow even for that, right ?

i tried the suggestions to improve SMB write speed from here in the forum with no luck. (Advanced settings, extra options)
min receivefile size = 16384

write cache size = 524288

getwd cache = yes

socket options = TCP_NODELAY SO_RCVBUF=65536 SO_SNDBUF=65536

ead raw = yes

write raw = yes

max xmit = 65535

dead time = 15

Display More
my speed is still slow.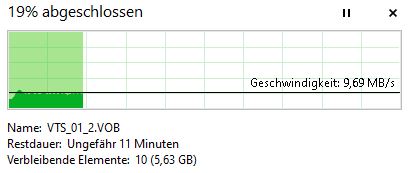 Reading from the share is very fast though. I reach 90MB/s when transferring from the Pi to my PC.
Out of curiosity i connected a USB3 thumb drive to the Pi and write speed was around 20 MB/s. ( slower than what it could be written on on the pc but at least faster than the hdd)
Any help would be highly appreciated.