Hi,
I added a PCIe 2.5Gb network card with RTL8125b chipset (Delock)
But I am not able to add it to the network interfaces. I only see three veth interfaces to select which differ each time I am starting up.
I followed the instructions here:
RE: W: Possible missing firmware /lib/firmware/rtl_nic/rtl8125a-3.fw
3 files are new there: rtl8125a-3.fw, rtl8125b-1.fw and rtl8125b-2.fw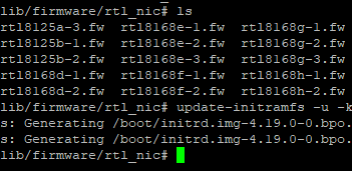 But still I cannot add the additional network card...this card should have a direct link to a second network card in my PC to optimize transfers.
PCIe Mode is set to auto in the j4105 Bios
Any ideas?
Thanks in advance