Last update: 04Jul2021
To allow for a comparison of apples to apples and answer questions like "read or write rate is only #MB/sec on my hardware".
Short summary:
A RPi4 using below SMB 'Extra Options' will max out a 1Gbit/s wired network (common maximum speed in home and office networks)
SMB 'Extra Options' are platform independent
performance bottleneck for clients accessing data on the NAS is the network hardware

best case for wireless network access via WiFi-4/801.11n is for Write ~ 10 MByte/s & Read ~ 13.5 MByte/s
best case for wireless network access via WiFi-5/801.11ac is Write ~ 18 MByte/s & Read ~ 20 MByte/s
random access of data is much slower between 1,3 MByte/s to 2 MByte/s for WiFi-4/801.11n & WiFi-5/801.11ac

investing in fast NAS hardware (i.e. SSD data disk, CPU, RAM) has low to no benefit to clients accessing the data, because network hardware is the real bottleneck
valid comparisons can only be performed by using the same tools. Details are documented below
SMB 'Extra Options' modified to:
min receivefile size = 16384
write cache size = 524288
getwd cache = yes
socket options = TCP_NODELAY IPTOS_LOWDELAY
read raw = yes
write raw = yes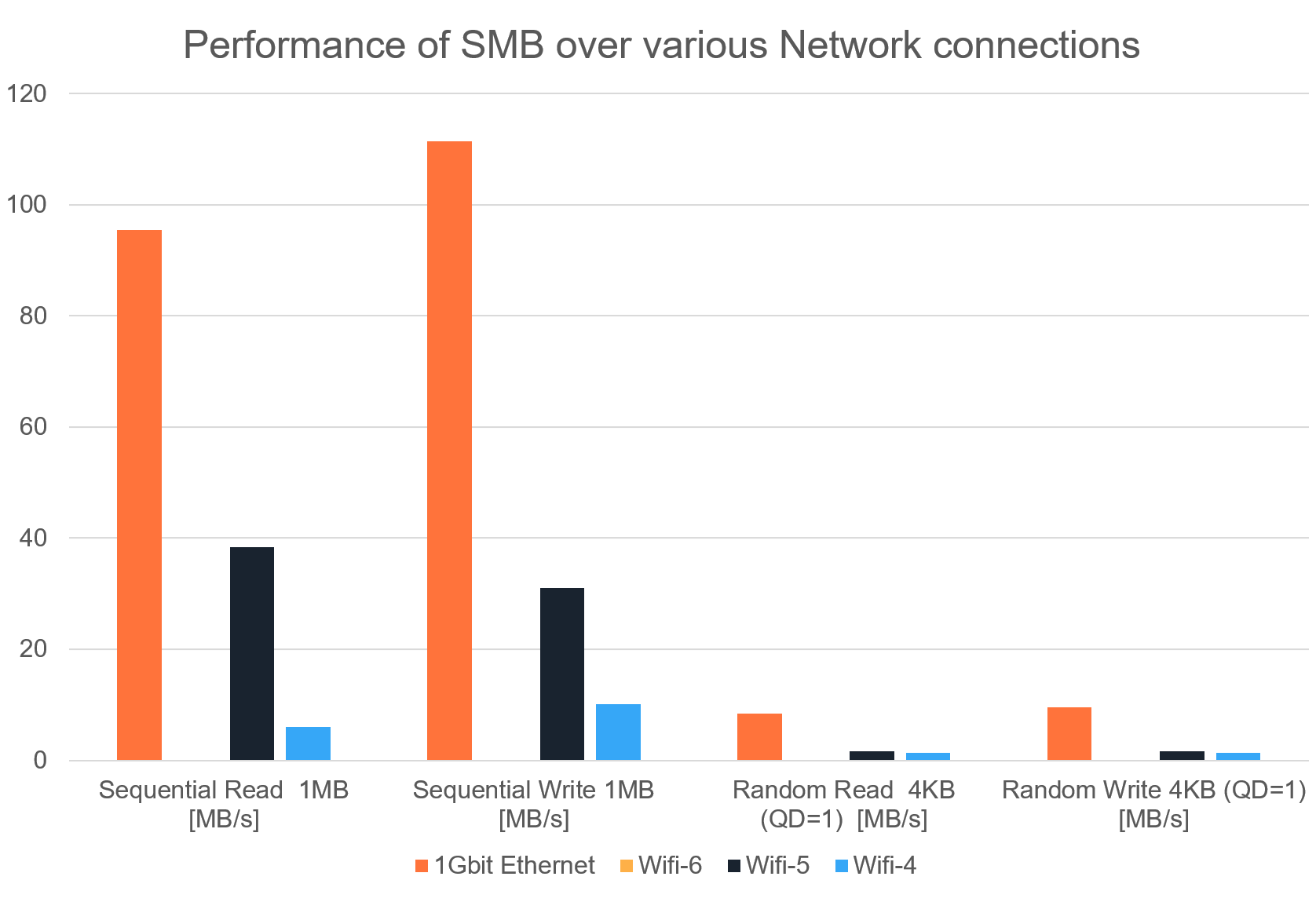 These are measured values from a:
server: RPi4 with 4GB RAM running

omv 5.5.19-1 (usul)
Debian 5.4.79

storage: 2x 6TB Toshiba HDWT360 HDD in Icy Box IB-RD3662-C31 /RAID1

connected via original USB3.1 cable of IB-RD3662-C31

formatted with ext4 file system

further configuration details at bottom
Measurements:
Performance of SMB share hosted on OMV RPi4 server connected via wired 1Gb Ethernet versus 2 WLAN routers using (802.11n) & (802.11.ac = WiFi5) protocol to a Windows 10 client.
Measurement done with CrystalDiskMark 8 on a Windows 10 client.
Many more benchmarks have been published. Worth mentioning are:
- Jeff Geerling's blog titled "Building the fastest Raspberry Pi NAS, with SATA RAID"
- optimum encrypted RAID5 settings for NAS with RaspberryPI 4 (here)
1) Client and server connected via 1Gbit switch & wired Ethernet performance
[Read Performance]
| | | |
| --- | --- | --- |
| Measurement | MB/s | IOPS |
| SEQ 1MiB (Q= 8, T= 1) | 93.0 | 88.7 |
| SEQ 1MiB (Q= 1, T= 1) | 95.4 | 91.0 |
| RND 4KiB (Q= 32, T= 1) | 43.2 | 10557.4 |
| RND 4KiB (Q= 1, T= 1) | 8.4 | 2054.4 |
[Write Performance]
| | | |
| --- | --- | --- |
| Measurement | MB/s | IOPS |
| SEQ 1MiB (Q= 8, T= 1) | 117.3 | 111.8 |
| SEQ 1MiB (Q= 1, T= 1) | 111.4 | 106.2 |
| RND 4KiB (Q= 32, T= 1) | 26.7 | 6518.8 |
| RND 4KiB (Q= 1, T= 1) | 9.6 | 2337.6 |
2) Connected via WiFi-4 /WLAN(802.11n) (WiFi router was old single core model)
[Read]
SEQ 1MiB (Q= 8, T= 1): 6.1 MB/s [ 5.8 IOPS]
SEQ 1MiB (Q= 1, T= 1): 5.9 MB/s [ 5.6 IOPS]
RND 4KiB (Q= 32, T= 1): 5.7 MB/s [ 1395.3 IOPS]
RND 4KiB (Q= 1, T= 1): 1.3 MB/s [ 313.5 IOPS]
[Write]
SEQ 1MiB (Q= 8, T= 1): 11.7 MB/s [ 11.2 IOPS]
SEQ 1MiB (Q= 1, T= 1): 10.1 MB/s [ 9.6 IOPS]
RND 4KiB (Q= 32, T= 1): 9.7 MB/s [ 2356.0 IOPS]
RND 4KiB (Q= 1, T= 1): 1.3 MB/s [ 317.6 IOPS]
3) Connected via WiFi-4 /WLAN (802.11n) (WiFi router was new dual core model)
[Read]
SEQ 1MiB (Q= 8, T= 1): 14.2 MB/s [ 13.6 IOPS]
SEQ 1MiB (Q= 1, T= 1): 13.6 MB/s [ 13.0 IOPS]
RND 4KiB (Q= 32, T= 1): 11.3 MB/s [ 2765.9 IOPS]
RND 4KiB (Q= 1, T= 1): 2.0 MB/s [ 485.6 IOPS]
[Write]
SEQ 1MiB (Q= 8, T= 1): 12.2 MB/s [ 11.6 IOPS]
SEQ 1MiB (Q= 1, T= 1): 11.3 MB/s [ 10.8 IOPS]
RND 4KiB (Q= 32, T= 1): 10.9 MB/s [ 2655.3 IOPS]
RND 4KiB (Q= 1, T= 1): 1.9 MB/s [ 458.0 IOPS]
3) Connected via WiFi-5 /WLAN (802.11ac) (WiFi router was new dual core model)
[Read]
SEQ 1MiB (Q= 8, T= 1): 38.4 MB/s [ 36.6 IOPS]
SEQ 1MiB (Q= 1, T= 1): 19.9 MB/s [ 19.0 IOPS]
RND 4KiB (Q= 32, T= 1): 21.1 MB/s [ 5140.6 IOPS]
RND 4KiB (Q= 1, T= 1): 1.7 MB/s [ 426.0 IOPS]
[Write]
SEQ 1MiB (Q= 8, T= 1): 31.0 MB/s [ 29.6 IOPS]
SEQ 1MiB (Q= 1, T= 1): 17.8 MB/s [ 17.0 IOPS]
RND 4KiB (Q= 32, T= 1): 15.0 MB/s [ 3672.4 IOPS]
RND 4KiB (Q= 1, T= 1): 1.7 MB/s [ 423.3 IOPS]
------------------------------------------------------------------------------
Profile: Default
Test: 64 MiB (x5) [Z: 22% (1237/5544GiB)]
Mode: [Admin]
Time: Measure 5 sec / Interval 5 sec
Date: 2020/12/20 15:53:48
Client OS: Windows 10 Professional [10.0 Build 19042] (x64)
------------------------------------------------------------------------------
Server:
root@nas:~# lsusb -t
/: Bus 02.Port 1: Dev 1, Class=root_hub, Driver=xhci_hcd/4p, 5000M
|__ Port 2: Dev 2, If 0, Class=Mass Storage, Driver=uas, 5000M
/: Bus 01.Port 1: Dev 1, Class=root_hub, Driver=xhci_hcd/1p, 480M
|__ Port 1: Dev 2, If 0, Class=Hub, Driver=hub/4p, 480M
root@nas:~# uname -a
Linux nas 5.4.79-v7l+ #1373 SMP Mon Nov 23 13:27:40 GMT 2020 armv7l GNU/Linux
------------------------------------------------------------------------------
CrystalDiskMark 8.0.0 x64 (C) 2007-2020 hiyohiyo
Crystal Dew World: https://crystalmark.info/
------------------------------------------------------------------------------
* MB/s = 1,000,000 bytes/s [SATA/600 = 600,000,000 bytes/s]
* KB = 1000 bytes, KiB = 1024 bytes