Hi,
I have OMV5 and Nextcloud running for a few months now on a RPi4. During this time I was able to evaluate it and I'm happy with it. Now I would like to structure it the correct way.
My setup is a RPi4 with a 4TB HDD (/srv/dev-disk-by-label-DATA/) and a 128GB SSD (/srv/dev-disk-by-label-OS/).
Nextcloud docker stack and also Nextcloud data is on SSD.
On the HDD I have shares for documents, photos, etc.
With the end of google photos free option I want to use nextcloud as an alternative and will also use it as an alternative to dropbox. Since we are two users on nextcloud that want to use it mainly as a photo backup I'm expecting that in some months or a year the SSD will be full.
1-Do you think it is ok to move the nextcloud data to the HDD?
2-Will I notice any performance degradation?
3-Since nextcloud needs to be always on it is ok the turn off the HDD spin down?
4-How do I setup nextcloud to start using a shared folder on HDD? Do I only need to copy the folder /srv/dev-disk-by-label-OS/appdata/nextcloud/data/ to /srv/dev-disk-by-label-DATA/Nextcloud and then edit the volume? Or is there an automated way? I read on some posts about an External Storage App, is there any tutorial on how to set it up?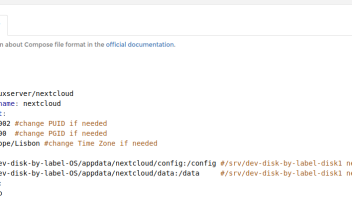 Thank you