I recently developed a need to set up Docker on my OMV NAS as described below:
After reading numerous recommendations I did the following:
created a shared folder on the NAS to use for Docker [/srv/dev-disk-by-label-Data/Docker] As my OS is on a 32GB SSD
I set the ACL for this folder to allow Docker to Read and Write
In the Docker setup page I added the shared folder to the Docker Storage field
I changed the IPTables to use Legacy
I saved that configuration
I Installed Docker
The result of this is that Docker shows that it is installed but not running (even after numerous Docker Restarts and a couple of Server Reboots.
Furthermore I thought perhaps I should just Remove Docker and Re-install but in doing that I get an error message saying Docker Cannot be uninstalled.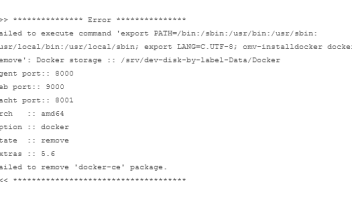 Also the boot log held these gems if they may help:
I am not sure how OMV_Extras caused this to happen but I would appreciate any assistance in correcting this problem.