Hello all,
I'm new to OpenMediaVault. Just installed it a few weeks ago (~4). So I'm not familar with OMV yet. Pls move the thread to the appropriate category, if it's not correct in this one.
The system in short: ASRock Q1900M Board (Celeron J1900) with 4 GB RAM, Systemdrive is a Crucial 250 GB SSD, Datadrive (only one) is a Seagate Iron Wolf 4 TB.
No Add-ons, pure OMV ISO with prepared USB-Stick.
OMV is working well so far but I've recognized Update-Problems from the beginning. I decided to care later. Today the system startet to send lots of Monitoring alerts. Extract:
Along with that I saw that the graphs stopped somewhere around KW39. So I could not review the 'Resource limit succeeded' alerts, e.g. 'current mem usage = 90.1%'.
This one is probably of most interest: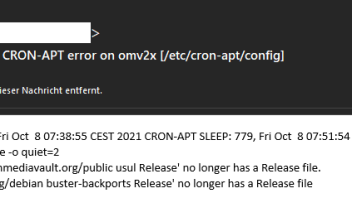 Usually there is a Firewall Rule in place to prevent the OMV from accessing the internet. So I disabled this rule to perform an Update. First attempt was not successfull (Error Message follows). Did a reboot and tried again. Now some Updates where found and could be installed. Clicking 'Prüfen' (presumably Check in EN) again still results in this Error Message:
Pretty much the same as with the first attempt but a little shorter.
What's the problem here and how can I solve it?
Best regards,
A. Dent