Hello guys,
setup:
/dev/sda SSD --> OS
/dev/sdb HDD 14TB
/dev/sdc HDD 14TB
/dev/sdd HDD 14TB
sdb, sdc and sdd are/were one RAID5
Raid is /dev/md127
I had to reinstall OMV 5. For reinstall I pulled out all SATA cable of HDD's. After install I put back and configure my system. Now I get messages:
When I do mdadm --detail /dev/md127:
In the WEBGUI I see all disks. In S.M.A.R.T. all disks have a "good" status.
When I try RAID --> Recovery I see the missing /dev/sdd in the menu, but when I try to recover it: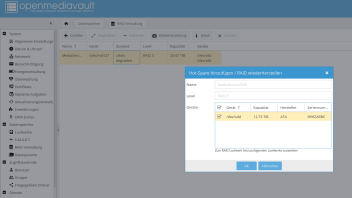 I don't think that the disk is dead, but I don't know how to go on. Any idea what to do?
To buy a new disk is not that cheap