This is my first pi and new to omv so bear with me.
I recently did a new install of omv 6 on my raspberry pi 4 running raspberry os lite. It seemed to install ok but when I try to access the web GUI it says the sever isn't responding. I set the pi with a static ip through my router so I now I have the right IP address. After I wasn't able to sign in I tried rebooting the pi and it said something failed wait for network to be configured (see attachment). Im assuming this may have something to do with my issue.
Im running the os of an sd card. Upon investigating it seems that this isn't the best way to go for omv, but according to the documentation there is an install variant for an sd card. Does anyone know how to install this variant, does it differ from other variants? Can the sd card be part of the problem?
This is the command I used to install omv can someone tell me if its correct or not.
wget -O - https://raw.githubusercontent.…tallScript/master/install | sudo bash
I just realized I didn't use the "sudo" command could that have screwed the install?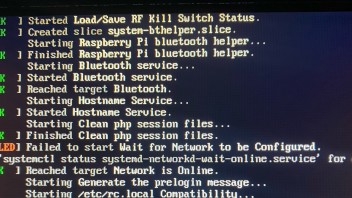 Any help will be greatly appreciated