Hi,
I'm trying to get a Raid 5 setup of 5x 3TB WD Red drives in a HP Proliant N40L.
I have got the drives in, the system and OMV can all see the drives.
I go into 'Disks' and it correctly shows me all drives.
I did a quick 'Wipe' on each drive then went to Software Raid and created a new software raid 5 using all 5 drives.

Now I go into 'File Systems' and choose 'create' and there is nothing showing in the drop down list for 'Device'.
I cancel, go back in and choose 'Mount' and it shows me my new Raid 5 (at this point I have not selected any step for creating a file system, have only created the Raid 5 step).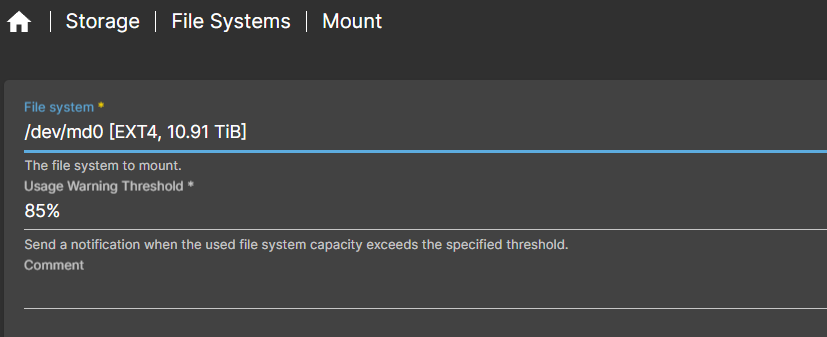 I mount it and save and then end up with the below:

No information at all available about the mount, I cannot see it on any other screen to use it - basically it is supposedly mounted yet doesn't seem to be as per anywhere else in the system.
Unsure what I am missing or doing wrong so appreciate any pointers.
I have deleted the raid, wiped the disks and tried again and I'm again in same position.
Thanks