Guys,
Just upgrading my home infrastructure - i have 3 x ESXi 7 servers in a cluster - each with 10GB ethernet back to a Brocade 6610 switch
Jumbo frames are set
The NFS data is being shared over a dedicated VLAN that is locked down on the switch to only allow specific MAC addresses for each port to allow connection - so i am happy with the security
I currently have a Centos 8 server with a NFS share setup on it and the servers are accessing it fine
This is what the exports file looks like on the Centos machine as a point of comparison
/Storage/Virtual-Machines 192.168.202.0/255.255.255.0(no_root_squash,async,rw)
/Storage/Virtual-Machines 172.16.200.0/255.255.255.0(no_root_squash,async,rw)
I am now attempting to create a new share on a new OMV6 box that will eventually replace the Centos Server - first step is to create a shared datastore for Virtual Machines.
I am using a mixture of genuine Intel 520 and 540 dual port cards in the systems.
The VLAN for NFS is set to VLan 200
OMV IP address is 172.16.200.26
Host IP address is 172.16.200.9 ( i have 3 hosts with 7,8,9 as the addresses)
I have created a new RAID1 disk set on OMV, then created an EXT4 filesystem.
I have then created a shared folder
And have then assigned the following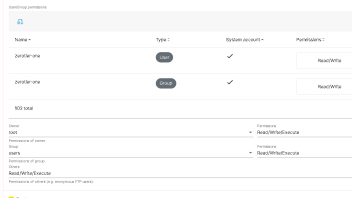 I have then enabled NFS and created a NFS share as such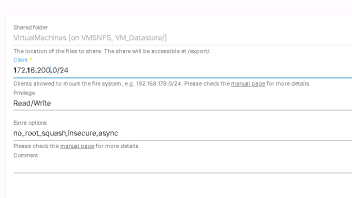 I am able to mount this share on the ESXi servers - which have a dedicated 10GB adapter on the 200 VLAN for storage - however when i try and drill down into the filesystem of the datastores to find stored images etc i get a variety of errors which are a variation of timeouts waiting for the filesystem to respond.
Does anyone have any idea what is going on ?
When i look at the export file on the OMV box it appears to be written correctly with the options i have added
Craig