Hey all,
recently I upgraded to Arrakis and everything worked like a charm.
But now, when I'm back in my daily business with my server I found indeed some problems.
The first was an error in VirtualBox which was solved fine in this forum, but the second concerns the OpenVPN plugin.
When I try to connect to the OpenVPN service from my office the VPN tool said "Waiting for Server".
In the common sense of "Have you tried turn it off and on again?" I actually did that but then I was not able to start or stop OpenVPN.
The following message appears: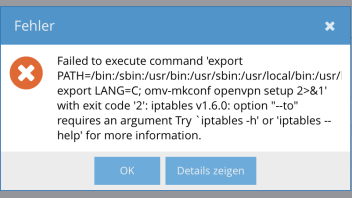 Maybe you also faced the problem and know a solution.
EDIT: I tried to re-install it via web interface but after removing it it does not show up in the plug-in section. Maybe the support for OpenVPN server stopped in Arrakis

With best regards
LouBen3010