Hi everybody,
After ruining the contents of the previous microsd with OMV6 installed of my 4GB RPI4, I proceeded to a new installation on a new microsd.
The installation finished successfully and I redefined all options, download plugins, etc.
Now I am in the situation that OMV6 sees all the connected disks: the microsd, a 128 GB SSD, and two 2.5 1 and 2 TB HDDs (the 2 TB one partitioned into two 1 TB ones).
SSD is connected via the usb3, while the two HDDs are connected also to the second usb3, but they are powered separately.
Now I am in the situation that OMV6 sees the disks,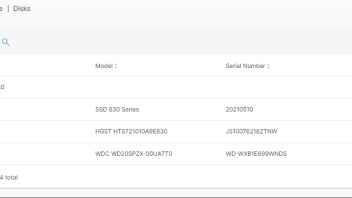 but not the fs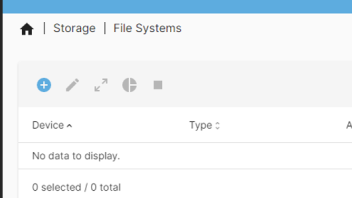 And if I try to do a mount it only sees the two partitions of the SSD.
Also I have the same problem with S.M.A.R.T which sees the 3 disks as a device
But if I try to schedule a check and try to select the device it doesn't find anything.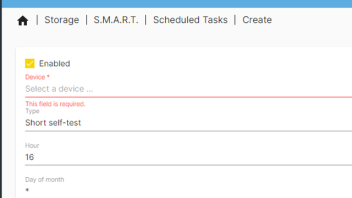 I have forced the mount of the disks from fstab
proc /proc proc defaults 0 0
PARTUUID=1f09f3c2-01 /boot vfat defaults 0 2
PARTUUID=1f09f3c2-02 / ext4 noatime,nodiratime,defaults 0 1
# a swapfile is not a swap partition, no line here
# use dphys-swapfile swap[on|off] for that
# added manually
PARTUUID=769ce51b-01 /media/Backup_A ext4 defaults 0 0
PARTUUID=9a9cbdb3-01 /media/Backup_B ext4 defaults 0 0
PARTUUID=9a9cbdb3-02 /media/Altro ntfs-3g defaults 0 0
And the s.o. sees them
Filesystem Size Used Avail Use% Mounted on
/dev/root 59G 2.7G 54G 5% /
devtmpfs 1.7G 0 1.7G 0% /dev
tmpfs 1.9G 0 1.9G 0% /dev/shm
tmpfs 759M 948K 758M 1% /run
tmpfs 5.0M 4.0K 5.0M 1% /run/lock
tmpfs 1.9G 0 1.9G 0% /tmp
/dev/mmcblk0p1 255M 31M 225M 12% /boot
/dev/sdb1 916G 5.2G 865G 1% /media/Backup_A
/dev/sdc1 916G 66G 805G 8% /media/Backup_B
/dev/sdc2 932G 717G 216G 77% /media/Altro
folder2ram 1.9G 93M 1.8G 5% /var/log
And ls shows me their contents
total 56
drwxrwxrwx 2 root root 16384 Mar 29 2021 lost+found
drwxrwxrwx 3 root root 4096 Mar 29 2021 Mame
drwxrwsrwx 2 root users 4096 Jun 11 2021 Document
drwxrwsrwx+ 5 root users 4096 Aug 25 22:39 Photo
-rw------- 1 root users 7168 Aug 25 23:24 aquota.user
-rw------- 1 root users 7168 Aug 25 23:24 aquota.group
drwxrws--- 4 root users 4096 Aug 26 16:18 Backup_B
drwxr-xr-x 5 root root 4096 Oct 11 19:43 ..
I also tried a write test with success.
Also, with the previous version of OMV6 (I don't remember which one) I had no problem, it saw both disks and fs and allowed me to create shared folders by selecting fs, so, personally, I rule out it being a disk power problem also because at the s.o. level there are no reported anomalies.
So what could it be?
The current version I am using is 6.0.43-1 on the latest 64 version of raspios lite from September, kernel 5.15.61-v8+
Thank you very much!