Hi,
I have the latest nextcloud version ( Docker 19.03.4 on linux, arm) running as a container (docker) on a raspberry 4.
All works fine at home and I am trying to access remotely nextcloud, the Pi is accessible from outside via Remot3.it
this is what I get: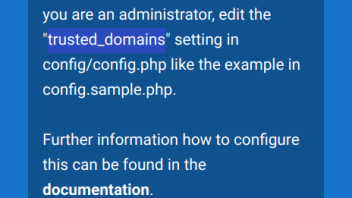 I understand that I need to modify the config.php and I don't have access to the CLI.
I have access remotely to the general controls of my containers via the OMV GUI as well as through Portainer (1.2.22).
Is there anyway to modify the container via one of these 2 GUIs in order to be able to access Nextcloud from my remote location?
Any help will be greatly appreciated,
Stef