Objectives:
Move my noisy NAS-type HDDs outside my living room(PC). Both the Seagate NAS and WD Red have a metallic sounding spinning noise that I can't stand any more.
Lower power consumption by 20-30 watts when watching a film off those hdds (my desktop is using 40-45 watts in idle).
Normally only the right door is left ajar (its natural position anyway :D). A more elegant solution will be considered in future.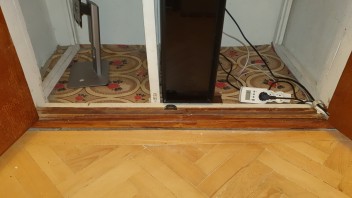 What I used:
(only new parts were mobo, ram and psu)
Motherboard: Asrock J4105-ITX
Only 4 SATA ports. Enough for now but on the long term I might get a PCIe-SATA card for extra 2 or 4 ports (4 might be a stretch with only 1 pcie lane available).
RAM: 1x 8GB Corsair CMSO8GX4M1A2133C15
Boot SSD - Intel 530 120GB
HDDs: 1x Seagate NAS 2TB + 1x WD Red 2TB. Will probably add a 6TB or 8 TB one later.
Case: Cooler Master Silencio 550 + Scythe 120mm fan
PSU: Be Quiet TFX POWER 2 300W (80 Plus Gold)
I really geeked it out here!
I wanted to get energy efficiency close to what commercial NAS-es get so I rummaged the Internet for "high efficiency at low load" ATX PSUs (I'm reluctant to try pico-psu types).
So I got this PSU specifically because it was touted as having very high efficiency even at low loads (see this review: https://translate.google.com/t…bequiet-tfx-sfx-300w.html)
Of course I had to improvise a bit to install a TFX psu in an ATX case (drilling a few holes and using a metal bracket, plus a cardboard "shroud" (since they're in fashion anyway, lol) to cover any open spaces and direct airflow.
Alternative PSUs I've considered:
-Silverstone ST30SF v 1.0 (not v2!) - 80 Plus Bronze - cheaper but somewhat lower efficiency figures: https://www.jonnyguru.com/blog…-sfx-300w-power-supply/3/
-Corsair SF450 - 80 Plus gold/platinum, same or better than the BQ but more expensive.
https://www.jonnyguru.com/blog…f450-450w-power-supply/3/
The results:
Power consumption (AC 230V, with a cheap power meter):
-Idle (boot SSD only): 10-11 watts
-Idle (2 HDDs spinning but idle): 16-17 watts
-One active read from 1 HDD (aka watching a film): 16-17 watts (yes, same as idle)
-Data transfer on both HDDS + heavy network activity: 19-23 watts
Max Temperatures I've seen, heavy transfers and network traffic (in the closet, one door slightly open)
- HDDs: 37C and 39C
- CPU: lower 50s
Things might change in the summer when I'll get an extra 5C in the room. Thinking of a vent in the shelf above to help the warm air go to the upper shelf.
Extra things I've learned:
The more "desktop" alternative would've been an Intel B360/H370 mobo with a Celeron/Pentium CPU. Would have gotten an extra 5 watts of power consumption but 6 SATA ports out of the box
NTFS writes are horribly slow in Linux? I was getting 50-60 MBs from 1 HDD to another. After converting to EXT4 I'm getting 110-120, double and close to the max for Gbit LAN anyway
I tried a SATA-USB adapter for the boot SSD in order to have an extra SATA port available. To my disappointment this ate 2 extra watts which is as much as I'd assume a pcie-sata adapter would use (according to official specs)
LSI/SAS adapters seem nice but their power consumption is more in the range of 5-10 watts which would defeat one of the purposes of my build
PSU 80 plus gold is not enough, it also need to be lower power and not overkill! Even 80Plus Platinum only has requirements for 10% load. So At 5% load, a 450W psu , giving 22-23 watts, would be less efficient, more in the range of 75, rather than 80+. With Bronze it gets worse, dropping even under 70.