Hello.
Since Synology is stopping support for "old" Disk Stations, I decided to replace my DS210J by a custom build and I naturally came across OMV to run it.
I assembled the following configuration (for less than the price of a brand new Synology!):
- Processor: Intel Celeron G5903
- Motherboard: ASRock H470M-HDV/M.2
- RAM: 1x G.Skill Value 8 GB DDR4 2400 MHz
- Power supply: be quiet! SFX Power 3 300W
- System disk: 1x Kingston SSD A400 120GB (I could have gone with a M.2 but I wanted to keep cost low)
- Data disks: 2x Western Digital Red 1TB (that were in the Synology)
- Case: Aerocool CS-101
I struggled a bit with the cabling and position of the disks as the cable from the power supply was a bit short to reach the disks. That being said I am quite happy with the result: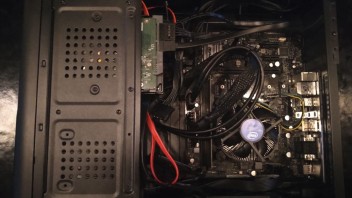 I still have to do the first power on and install OMV (wish me luck

).