the upgrade to version 6x worked without error messages.
I proceeded according to a HowTo here from the forum (can't find it anymore), where among other things an "omv-salt stage run deploy" was recommended, then an "omv-upgrade" and finally an "omv-release-upgrade" to toast
The former was all green with no errors. Also the upgrade was ok as far as I can see, as was the release upgrade, which however had two warnings in between (something with grep and folder not found).
OMV 6 works so far, but I get a "500 - Internal Server Error" (see txt- file; to big to post it here) if I try to start the "Pending configuration changes" (see screenshot).
So about my less skill in linux I need a little help to solve that... Is there anybody?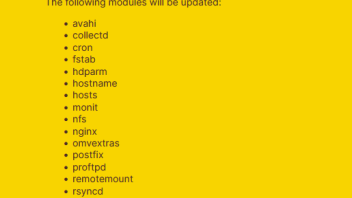 230521, OMV Error 500 while update.txt
Maybe this is the point, the missing one? Just find is. Was'n shown in the former 5x version... So I have no idea what drive are missing

Is there a way to clean that up in any way? So it's not possible to simple delete/unmount them ...