I've seen so many installs of piwigo and I could not get any of them to really work properly on OMV5.
There are different ways to install this and you can upload your photos outside of the piwigo container, but I did not want to mess with symbolic links. I am totally ok with having piwigo and all my photos in one directory. This is just the quickest and easiest way to get piwigo up and running on OMV5.
- This tutorial assumes you have OMV5 installed and running properly.
- This tutorial assumes you have Portainer installed and running properly.
- This tutorial assumes you know how to use OMV5 and Portaineer.
1) Open portainer in your web browser.
- Click on Stacks --> Add Stack
- Give it a name such as piwigostack
- Copy and paste the code below and add it to the stack's Web Editor section. You will need to change the environment and volume parameters to suit your system. I have noted the main points you need to edit. Take out the comments before you deploy the stack.
##remeber to remove the comments before you deploy the stack.
- disable the "enable access control"
- Click "Deploy the stack"
You will now see 2 new containers named "piwidb" and "piwigo"
2) If everything went as planned open a web browser and point to your OMV5 ip at port 8125
for example, mine is : http://192.168.1.5:8125
You should have the piwigo instaltion screen in front of you.
3) Before you move forward you need to know the ip of your piwigo database.
- Go back to Portainer and under containers you should see the new "piwidb" container. Under the "quick actions" column open the exec_console for piwidb then connect.
- Once connected type in "hostname -I" without the quotation marks. This will give you your host database IP address.
- you see in my example below mine is 172.17.0.3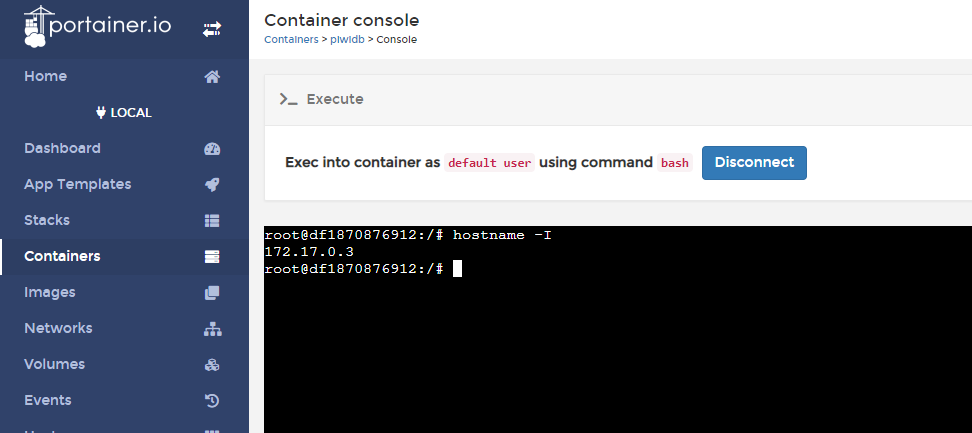 4) Go back to the piwigo installation install screen in your web browser and fill in the fields.
In the "Database Configuration" section:
- enter the host ip address of your database
- User is piwigo
- Password is piwigo
- database name is piwigo
- database tables prefix is piwigo_
In the "Administration Configuration" section:
- you enter whatever you want in this section
When you have all the fields filled in then click on "start installation"
If all goes well then you will get " Congratulations. Piwigo installation is completed"
That's it.
Note: I installed piwigo files to where my media files are housed because piwigo saves everything in one directory. The uploaded photos are saved in \www\gallery\upload.