I've been trying to assign permissions to different users for a few days now without success, and I'm getting desperate with folder sharing and locking subfolders. The hard disk was formatted with ext4 on the PC and folders and files already exist.
The following scenario
Folder 1
-- Folder 2
--- Folder 3
---- Folder 4
User A and user B should be able to use folder 1 as well as folder 2 including the files inside.
User B should not have permission for folder 3 and thus also for folder 4.
Access rights are set under "Data Storage --> Shared Folders" as follows:
User A > Folder 1 > Read/Write
User B > Folder 1 > Read/Write
User B > Folder 3 > no access
But user B has no access to all folders. I only ever manage to allow or block permissions to user A.
User B does not react. What am I doing wrong when assigning permissions?
Rights Folder 1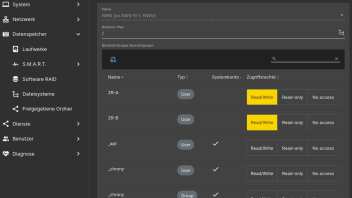 Rights Folder 3
##################
Text in Deutsch
Ich versuche nun schon seit einigen Tagen erfolglos verschiedenen Nutzern Rechte zu vergeben und verzweifle bei der Ordnerfreigabe und sperren von Unterordnern. Die Festplatte wurde am PC mit ext4 formatiert und es existieren schon Ordner und Dateien.
Folgendes Szenario
Ordner 1
-- Ordner 2
--- Ordner 3
---- Ordner 4
Nutzer A und Nutzer B soll möglich sein, Ordner 1 sowie den Ordner 2 inklusive der darin liegenden Dateien zu nutzen.
Nutzer B soll für Ordner 3 und damit auch für Ordner 4 keine Berechtigung haben.
Zugriffsrechte sind unter "Datenspeicher --> Freigegebene Ordner" wie folgt gesetzt:
Nutzer A > Ordner 1 > Lesen/Schreiben
Nutzer B > Ordner 1 > Lesen/Schreiben
Nutzer B > Ordner 3 > kein Zugang
Nutzer B hat aber keinen Zugang zu allen Ordnern. Ich schaffe es immer nur dem Nutzer A Berechtigungen zu erlauben oder zu sperren.
Nutzer B reagiert nicht. Was mache ich bei der Rechtevergabe falsch?